■Carrie Chan/Jasmin Zhuang
On June 12th, after the opening ceremony and the show floor tour of IAAPA Asia, IAAPA Asia's organizers held a group interview session at IAAPA press office - W2-M2, SNIEC. David Rosenberg, 2019 Chairman of the IAAPA board of directors, Hal McEvoy, president and CEO, IAAPA June Ko, executive director and vice president of IAAPA Asia Pacific Operations attended the interview. As a professional media in the industry, GTI was also invited to join in.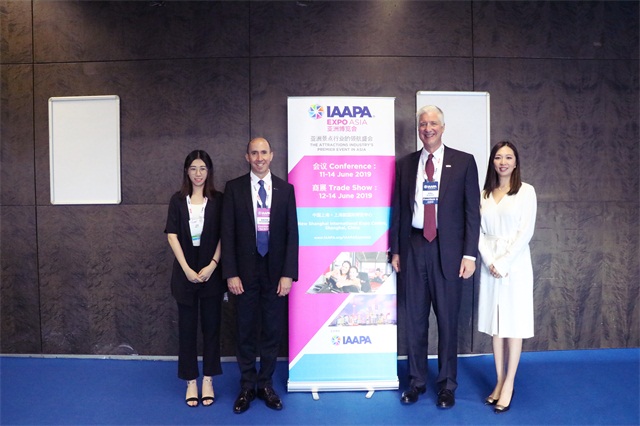 Q: Would you like to introduce this year's show?
A: IAAPA Asia 2019 attracted 429 companies from 30+ countries. Among all the exhibitors, there were over 100 newcomers. This not only reflects the industry will have substantial growth in the future, but also tells us we can expect more. We are very proud. Now, we have started to prepare for next year's IAAPA Asia in Macao, and have opened the registration for the booths. We look forward to it.
Q: Are there new trends in the show?
A: 400 exhibitors showed our industry's diverse and rich formats, including VR, dynamic cinema, the latest rides, and so on. This implies our suppliers, manufacturers, and operators can bring lots of novel products and services to the industry. All of the "fresh blood" shows the new trends. Every year, numerous professional insiders from all over the world gather at IAAPA Asia. They share the latest popular trends and look forward to the future together. This is also the responsibility of IAAPA Asia, which is regarded as a world-class industrial expo.
Q: How do you think about the trend of China game & amusement equipment integrating with IP?
A: Lots of our Chinese members use IP. I think this is a very good innovation because they create opportunities for visitors to interact with the IP images closely. Promoting the latest, hottest, and local culture-related IP can be a much better way to improve visitor experiences.
Q: Compared with last year's show, what is the biggest difference this year?
A: IAAPA Asia 2019 featured the largest trade show floor in the Expo's 21-year history. We held the show in Shanghai 3 years ago, and reached great success. This year, we are more successful. The show floor covered an area of 13,302 net square meters (34,500 gross square meters). We not only provided a networking platform for suppliers, manufacturers, and operators, but also held lots of related activities and management courses, where attendees could exchange information, share experience, and build a wider social network.
Q: In recent years, IAAPA Asia has been held in China. Does it means that the organizers are more focused on the China market?
A: The Asia-pacific region is a very big and vital market for us. As IAAPA is committed to serving all its members, we hope to gain more insights into each region, and provide a chance for our exhibitors to experience different markets. Actually, this is also what exhibitors want. As for the location, we consider the quality and service of each exhibition center. We also think about whether the target city has new trends to share. Our board of directors supported and helped us a lot. They shared many deep and unique insights. David, the chairman of the board made a very long-term plan for the future, not just for next year.
Q: What positive effects has the IAAPA Shanghai office played?
A: The opening of the Shanghai office provided IAAPA with an advantage of good timing and language convenience. At the same time, we hope the establishment of the Shanghai office can drive us to be much closer to our Chinese members and bring us more opportunities to share and communicate. Here we are very grateful to all the media friends for reporting the information of the opening, and help more members to learn about this news.
Q: Does IAAPA have any new plans for developing the China market in the future? What are they?
A: In total we have over 6,000 members worldwide, 12 percent of whom are from the Asia Pacific region. And we are also aware of the increasing number of members from China and throughout the Asia Pacific region. China's economy is very active. We have noted a lot of innovation, imagination, and rich culture in China. In the future, our Shanghai and Hong Kong offices will help IAAPA to get closer to our members, and let members to know more about the opportunities and services that IAAPA offers. Even though the companies are not the members of IAAPA, they can also get more information. It is significant to emphasize that IAAPA does not belong to any single country. It is a global association. Being able to provide many global networking opportunities is our hallmark.
Q: What does IAAPA think about the impact of China-US trade relations?
A: As an industrial association, one of our key responsibilities is to observe and understand the trends that are happening in the world, and help our members to figure out what to do about it.
※The article is published in the GTI Magazine Issue No. 177 in July 2019