The 11th GTI Asia China Expo (GTI GZ Expo) will be grandly held at area A, China Import and Export Fair Pazhou Complex, Guangzhou, China on September 10-12. With about 600+ exhibitors, the show will cover an area of 80,000 sq.m, and is expected to attract over 1.5 billion visits.
As an annual industrial expo, GTI GZ Expo will be inaugurated in Golden September. It will not only gather professional buyers from over 60 countries and regions, but also get numerous top insiders and promising manufacturers in game & amusement industry together. During this 3-day show, global buyers can exchange ideas with lots of manufacturers, explore the most popular games and purchase various amusement equipment and components.
Here, GTI organizing committee sincerely invites all the buyer from home and abroad to enjoy this yearly feast and share the happiness of the industry together. Industrial manufacturers and buyers can download the tickets "GTI Asia China Expo & CWPE Water Park Expo (Chinese)" and "GTI Asia China Expo & CWPE Water Park Expo (English)" firstly. With the ticket, you can get your badge at the registration center and visit the show for free.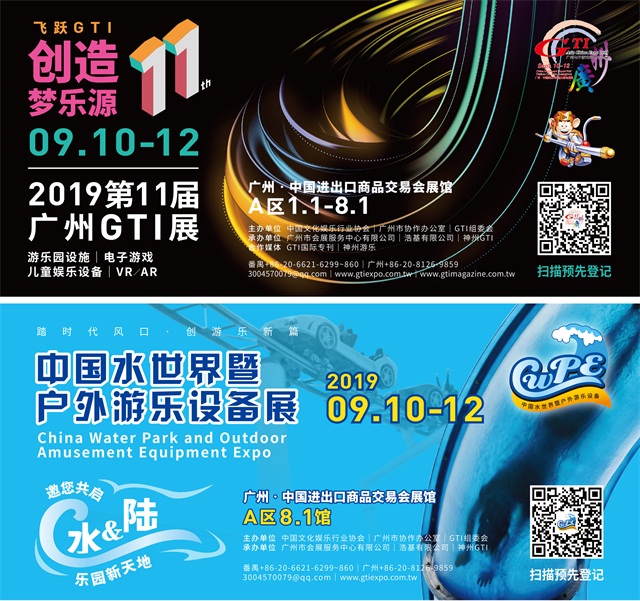 GTI Asia China Expo & CWPE Water Park Expo (Chinese)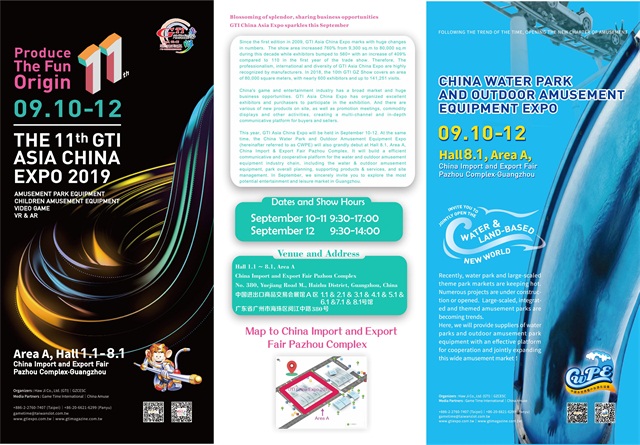 GTI Asia China Expo & CWPE Water Park Expo (English)
Show Hour: Sept. 10-11, 9:30 am - 5:00 pm; Sept. 12, 9:30am - 2:00 pm.
Location: Area A, China Import and Export Fair Pazhou Complex, Guangzhou, China (No. 380, Yuejiang Road Mid, Haizhu District, Guangzhou)
Feel free to register online if you are interested in visit the Expo http://www.gtiexpo.com.tw/cnen/online_register.php